April is Sexual Assault Awareness Month (#SAAM)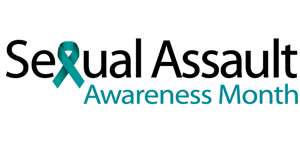 April is all about recognizing that sexual assault occurs in our communities, schools, to our friends, and to people we know and love.  One in five women and one in six men has experienced sexual abuse at some point in their lifetime.  If you were to look around your classroom of 25 students and think…there's no way 4 boys and girls in this room have ever been assaulted…just remember that it might happen to them in the future, if it hasn't already.  The risk is real, and it can happen to anyone (think college, where the amount of people you come in contact with is significantly higher than right now, you're without as much adult supervision, and drugs and alcohol are more readily accessible).  But it can also happen in relationships, in families, or any time someone uses trust, manipulation, or force to make another person act against their will.
Sexual assault is any kind of unwanted sexual contact.  This includes sexual harassment, threats, unwanted touching, penetration, rape, videotaping/photography, or any other non-consensual sexual activity.
As always, if you've experienced sexual assault or know someone who has, we are here to provide information, support, counseling, and any help that you may need.  Call our 24 hour confidential hotline at 1.800.439.6507 to speak to a counselor 24 hours a day,  or chat with us with secure confidential website messenger chat on our website from 9am-5pm.  We are here for you!